Original Mercedes Sound 5 Be7076 Becker Cd-r W639 W906 W169 A W245 B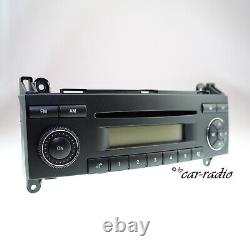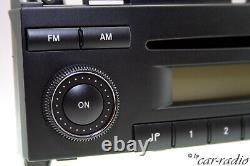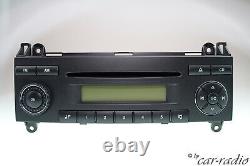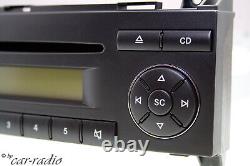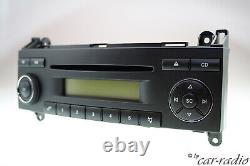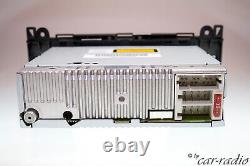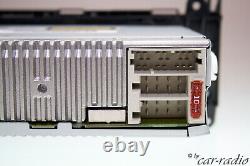 Autoradio of origin mercedes-benz sound 5 be7076 cd-r becker is suitable for the following mercedes-benz model: w169, c169 class a year of construction from 09/2004 to 04/2012 w245, t245 class b year of construction from 02/2005 to 11/2011 w639, v639 vito viano year of construction from 04/2006 to 07/2014 w906 ncv3 sprinter 2 year of construction from 05/2006 to 07/2014 vw crafter year of construction from 04/2006 to 03/2014 important! Can only be used if the same or one of the be6086, be9012, be9011 has been installed beforehand! The radio is again tested for all functions about 45 minutes before sending!
Special features: lighting: amber yellow mercedes. The cd-r reads the original and engraved audio cds.
Rds, fm, mw, lw, kw, autostore, rds-auto-best, eon, rp, traffic, bass, treble, balance, random, repeat. 5 memory slots for each wave range. Output power: 4 x 25 watts.
Theft protection with security code. Supports: bose audio system, multi-function steering wheel, speedometer display, integrated hands-free system (hull), cd changer control option mercedes part number. A 906 820 08 86 (a9068200886).
B 6 656 0866 (b66560866). Delivery content: autoradio original mercedes sound 5 be7076 the cd-r reads the original audio cd and engraved prod unlocked! The radio is prod unlocked for your vehicle!
Condition: optical: good technical condition: works perfectly! This page has been translated with a translator. If something is not clear, do not hesitate to contact us.
The price indicated is a final price plus the shipping costs specified in the offer. This item is in the category "auto, motorcycle - parts, accessories\autoradios, hi-fi, video, gps\multimedia embedded\main stereo systems units". The seller is "www.Car-radios.Eu" and is located in this country: de.
This item can be shipped to the following country: whole world.
Lighting: yellow
number of channels: 4
original equipment number: a 906 820 08 86, a9068200886, 9068200886
Operating system: internal system
compatible vehicle model: sprinter
modified object: no
other part number: youngtimer, vintage car, rarity, daimler, benz, because radio, tuner, car stereo, head unit, cd-player, alpine, becker, autoradio, radio, code, fm, am, cd, ukw, mercedes-benz, daimler-benz, security code, original, origin, mercedes, hifi, stereo, cd-r, hi-fi, main units stereo systems, auto, class a, w169, c169, 169, w 169, c 169, class b, w245, t245, w 245, t 245, vuto, viano, w639, v639, w 639, v 639, 639, sprinter, 2, w906, w 906, 906, ncv76, be limo, coupe, long version, cdi, normal, classic, elegance, avantgarde, polar star, edition 10, 150, 160, 170, 180, 639, sprinter, 2, w906, 906, 906, ncv76, beb76, beb76, 86, 86, 86, a 90, classic, polar star, pack, 10, 150, 150, 150, 170, 170, 180, 180, 180, 180, 180, 180, 180, 180, 180, 180, 180, 180, 180, 180, 180, 180, 180, 180, 180, 180, 180, 180, 180, 180, 180, 180, 180, 180, 180, 180, 180, 180, 180, 180, 180, 180, 180, 180, 180, 180, 180, 180, 180, 180, 90, 90, 90, 60, 60, 60, 60, 60, 60, 60, 60, 60, 60, 60, 90, 90, 60, 90, 60, 60, 60, 60, 60, 60, 60, 60, 60, 60, 60, 90, 90, 90, 90, 90, 90, 90, 90, 90, 90, 60, 60, 60, 90, 90, 90, 90, 90, 90, 90, 90, 90, 60, 90, 90, 90, 90, 90, 90, 90, 90, 90, 90, 90, 90, 60, 90, 90, 90, 90, 90, 90, 90
reference number oe/oem: youthtimer, car vintage, rarity, daimler, benz, car radio, tuner, car stereo, head unit, cd-player, alpine, becker, autoradio, radio, code, fm, am, cd, ukw, mercedes-benz, daimler-benz, security code, original, origin, mercedes, hifi, stereo, cd-r, hi-fi, main units stereo systems, auto, class a, w169, c169, 169, w 169, c 169, class b, w245, t245, w 245, t 245, vito, viano, w639, v639, w 639, v 639, v 639, 639, sprinter, 2, w906, w 906, 906, ncv3, limoine, coupe, long version, cdi, normalversion, classic, elegance, avantgarde, polar star, edition 10, 150, 160, 170, 180, 180,ound, 9076, 906, ncv3, be90, be90, be90, be9056, conventional, classic, polar star, polar star star star star, 150, 150, 150, 150, 150, 150, 150, 150, 150, 150, 150, 150, 150, 150, 150, 170, 180, 180, 180, 180, 180, 180, 180, 60, 60, 60, 60, 60, 60, 60, 60, 60, 60, 60, 60, 60, 60, 60, 60, 86, 60, 86, 86, 86, 86, 60, 60, 86, 60, 60, 86, 86, 86, 86, 86, 90, 86, 86, 90, 86, 86, 90, 90, 90, 90, 90, 90, 90, 90, 90, 86, 86, 90, 90, 90, 60, 90, 90, 90, 90, 90, 90, 90, 90, 90, 90, 90, 90, 90, 90, 90, 90, 90, 90, 90, 90, 90, 90, 90, 90, 60, 90, 90, 90, 90, 90, 90, 90, 90, 90, 60, 90, 90, 90, 90, 90, 90, 86, 90, 90, Vehicle mark: daimler, mercedes-benz
Model: mercedes sound 5 be7076
unit of measurement: unit
size: simple din
compatible format: cd
Manufacturer part number: a9068200886 Mark: becker Customized bundled offer: no
characteristics: autoradio, security code, cd player, rds
Colour: yellow