Tnt Radio Android 9.0 W203 W209 W639 W463 Viano Vito Dab + 4963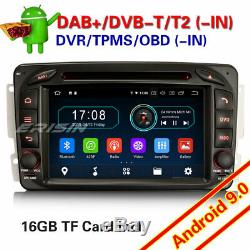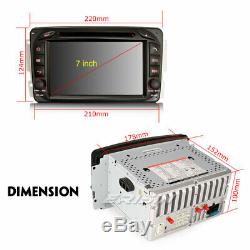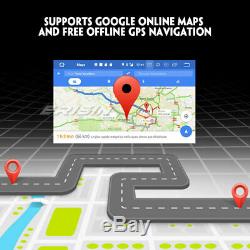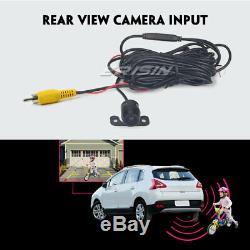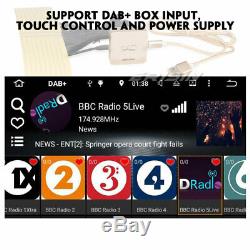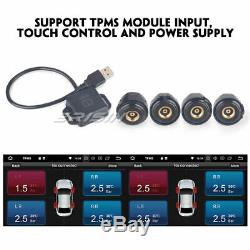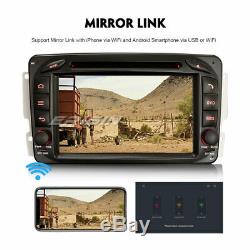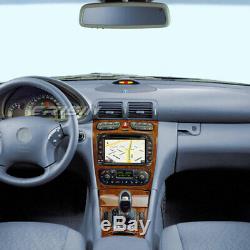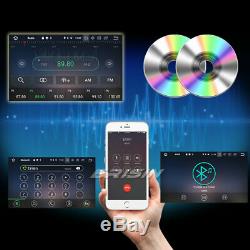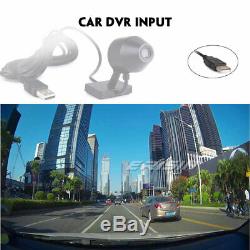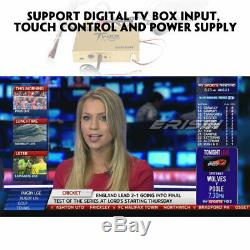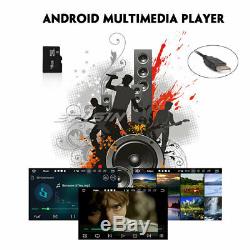 Single 1 Din Car DVD player. Double 2 Din Car DVD player. Rear camera / sensor parking.
Radio antenna adapt / booster. Dab + box / antenna. Sd card / usb card reader.
Tnt radio android 9.0 mercedes w203 w209 W639 W463 Vito viano 4963. Dab + 7 all-in-one design for for mercedes c class w203 clk class w203 w209 ...
Cars with can-bus decoder box (it cost 30 gbp in the market). Adopt the newest android 9.0 os pie, 1024600 HD capacitive touch screen, quad core 1512mhz cpu, 2gb ram and 16GB internal storage, media card extended 2/4 usb stick up to 664gb. It has special harbor for digital tv box, you can connect our.
To accomplish achieve touch operation, and this item can power on the connected DTV box. Built-in dab + app, just connect with our. Dab + box (es354 / es364 / es353).
Built-in tpms app for display tire pressure monitoring system, just connect with our. Tpms product (es341 / es331). Through usb to use this function, and built-in DVR app, just connect with a.
To use as record function. The record will be saved in card / usb storage automatically, and you can play saved record on this unit directly. Support Torque Pro (OBD2 & car), you can connect to.
Elm327 bluetooth obd2 scanner tool (ES350). Most popular and Strongest function: Support 1080p videos / live images / 2160p pictures, supporting PDF / Word / txt / Excel, audio / video / picture media player, internet surfing through. Support google online maps and free android offline maps gps navi, get access to Thousands of apps, games on the google play store, keep connected through twitter, facebook, gtalk, gmail, WeChat, Skype and other services play popular games like Fruit Ninja , feed the candy, angry birds, big fish, air attack ...
Radio, RDS, bluetooth, dVD, uSB, sD, cam-in. This unit will fit the Following car model. If this unit can not fit your mercedes c / clk for, please find the other item. Google android 9.0 operation system pie, beautiful and fashionable design ui single - 7 five point touch capacitive screen, HD digital screen 1024600.
Quad-core rockchip Px30 industrial-grade chips, cortex a35 cpu 1512mhz. 2gb ram, 16gb internal memory, supporting extended 2 card / 4 usb stick up to 664gb - music / radio / bt-stereo player and clock / date / week can be displayed on main status bar menu - built-in clock and calendar, clock / date / week / time adjustable area, can use gps or network-provided time - multi-languages: It has more than 180 languages ​​to select - rGB panel lED colors, you can setup Hundreds of colors through rGB combination - 5 live wallpapers, 24 wallpapers, supporting dIY user's wallpaper from gallery pictures - built-in wifi and supporting external 3g / 4g internet, 3g / 4g dongle is not included - Support google maps online navigating, you can use gPS navigating if you are in the internet - media android maps navigation, you can use free offline maps navigation. Support android multimedia player, it can play music / movie / photo from local disc or USB / SD.
Online entertainment, support online video, TV, movie, music, radio, youtube, yahoo, msn - online communication, keep connected through WeChat, twitter, facebook, gtalk, gmail and other services - supporting read and edit official software, word / excel / powerpoint / pdf / txt. Support google play store, you can download Thousands of apps and games from here. Support 3D games, HD video, 1080p, h. 264, divx live image formats - Support HD videos up to 1920x1080 pixels, photo up to 40,964,096 pixels - Support Bluetooth hands-free function, built-in microphone and external microphone jack.
Built-in tpms apk, just connect with a product tpms through usb to use this function - Built-in dab + apk, just connect a dab / dab + box with USB port to use this function. Built-in DTV apk, just connect a DVB-T / T2 box with special harbor to use this function. Support external DVR / tpms / atm / DVB-T / T2 device av input, touch control and power supply - Support rear view camera input and reverse trigger control - Support steering wheel control, hand brake control - electronic anti-shock, last memory position . Es4963c 7 quad-core Android 9.0 Capacitive multimedia player for GPS / wireless / tpms / DVR / DTV-in / dab + .. power supply: DC 12V (allowance range: 10.8-14.5v).
Front panel size: 220mm (top width) 124mm (high) 210mm (bottom width). Operation system: Google Android 9.0.
CPU: Rockchips Px30 1512mhz cortex a35. Extended card / USB: Support USB / SD up to 64gb. Capacitive or resistance screen: capacitive. Built-in clock and calendar: yes, show real time and can use network-provided time. Main status bar display menu: can be changed to music / radio / bt-stereo player and clock / date / week.
Wifi: built-in wireless module carrier 802.11b / g / n, carrier wireless hotspot. Online entertainment: online video, TV, movie, music, radio, video chat. Online browsing: online Google maps navigating. Online games: yes, online play or you can download it from google play store. Online communication: keep connected through WeChat, twitter, facebook, gtalk, gmail ..
read and edit Office software: yes, Support word, excel, powerpoint, pdf, txt. Format: MP3, WMA, MP2, OGG, AAC, ma4, flac, ape, wav etc. Could play through song list.
Other: LRC synchronized display; ID3 search; search by files; Album picture; user-defined audio effect. Audio IC: ic top global cirrus, independent audio decoding. Snr: noise ration: = 90db.
264, DIVX, XVID, rm, rmvb, MKV h. = 30 formats video playing Internet Directly (while downloading).
Play: up to 19201080 pixels, 30mb. Fluent play without spot light. Video output: common video output (av). Operation system: android 9.0.
Support maps: IGO, Sygic maps for android 9.0. Support 2D / 3D map views: yes.
Dual zone: yes, navigating while playing music. Online navi: yes, medium navigating Google maps online.
Compatible Format: MP4, AVI, DivX, DVD, VCD, MP3, CD, WMA, JPEG. OSD / audio / subtitle language: English, Italian, french, spanish, portuguese, german, russian .. auto-save function: yes, expediently watch all kinds of disc Continuously. A2DP (Bluetooth stereo music): yes, can play stereo music through Bluetooth. Bluetooth music control: yes, play / pause / previous / next.
Pb-download: yes, can download Phonebook from mobile to this unit. Pb-search: yes, can use the first letter to search contacts in member-bp listings. Calling Records: yes, dialed call, received call, missed call. Setup: auto answer, auto connect, device name.
Built-in microphone: yes, on the front panel. External microphone jack: yes, on the back, external mic. FM tuning range: 87.5-108MHz. Fm increment: 0.05MHz (had) /0.1mhz (us). Fm area: Europe / USA1 / USA2 / japan / russia.
Play videos MP5: yes, can play RMVB videos up to 1080p. Touch Music title to play Directly: yes. Position: on the forehead panel, media or GPS card slot optional.
Capacity: 64gb micro sd / TF card. Built-in DVR app: yes, just connect a USB camera DVR to use this function.
Storing position: card / usb storage can be changed. Touch Control DVR-camera unit is: yes. Built-in tpms app: yes, just connect a tpms unit to use this function.
Power supply to tpms Module Directly: yes. Touch Control Module tpms one unit: yes. Built-in player dab app: yes, just connect a dab + box to use this function.
Power supply to dab + box Directly: yes. Touch Control dab + box is united: yes. Built-in DTV player app: yes, just connect a DVB-T / T2 box to use this function. Power supply to DVB-T / T2 box Directly: yes. Touch Control DVB-T / T2 box is united: yes.
DVB-T / T2 box incl. Textbook: could change font, font color, background color, bookmark, reading e-book while listening music. Photo viewer: Support jps, bmp, png, gif etc. Play by revolve, Powerpoint 40964096 pixels.
Wallpapers: 5 live wallpapers, wallpapers 24 standard supporting DIY wallpaper from gallery. Install apk: Support android install package.
Support Torque Pro (OBD2 & car): yes, you can connect a Bluetooth OBD2 scan tool to use this function. Network & Internet: wifi / Hotspot / VPN / airplane mode. Connected devices: Bluetooth settings and connecting. Apps & notifications: apps info / notifications / app permissions / default apps, app special access. Display: brightness level, wallpaper, font size, night display and assistive touch. Wallpaper: wallpapers, live wallpapers, gallery. Sound: key tone, volume, default notification sound, default alarm sound. Storage: storage manager, internal shared storage and mobile storage. Security & Rentals:: rent / device admin apps / apps with access use.
Users & accounts: add account / sync data automatically. For settings: element / steering wheel keys / amplifier / navigation / driving settings / extra settings / factory settings. Element: 8 panel light colors, RGB combination carrier.
Navigation: yes, navigation implementation options, monitoring, sound mode, mixing ratio, gps monitor. Driving safety: allowed or watching video block, notifications in statusbar while driving. Network settings for app while driving. Extra settings: extra settings: shutdown delay access When off, choose on / off automatically When playing music or usb sd inserted.
Choose x-reversing mirror, reversing volume, reversing trajectory display, radar car display and rear view ruler on / off When needed. Factory settings: Code 3368, choose band radio, voice levels, canbus types and 88 open-unit-logos. System: languages ​​& input / Date & Time / backup / mcu & system updates / reset / about machine. Languages ​​& input: more than 180 languages ​​and choose input method. About Machine: display parameter info.
Rear-view camera video in: one. Front-view camera video in: one.
Aux in audio r / l. Dab + box in: one. Audio out: en / fl / rr / apply.
1user's manual in English. Quadlock 1power cable with connector. 1special can-bus decoder box box. 2special harbor for car CANbus connector.
International buyers, please note 1. These fees are the responsibility of the buyer, please check with your country customs office to determine what these additional costs will be prior to bidding / buying. These charges are normally collected by the delivery freight company (shipping) company or when you pick the item up - do not confuse them for additional shipping charges. In the transit process of your package, the shipping address can not be revised, the package can not be stopped either.
Friendly reminder: we do not ship several islands like the canary, the meeting, the Martinique, the Guadeloupe, the French Bolivia, sleeve, jersey, canvey, and so on. We do not ship to po box, apo address. Unconditional return within 30 days. We will provide replacement or full refund (buyer's choice) after your package received by us for the defective product or dissatisfied purchase which reported within 30 days. Local 1 year warranty in the UK --- originally a Factory we provide a warranty of 1 year from the date of purchase for UK buyers (for international buyers, we can provide is the address back in the UK or in Germany closest to you). Our car dvd is suggested BE installed by your local professional garage, also ask them to test unity before installation. If problems occur during installation or the use, please contact us in time.
So far, we found most of the problems are not found in our unit, but in the wrong operation or misunderstanding. The buyer will be responsible for the return postage.
We are not responsible for any cost of installation and maladjustment. Damage or missing components of our products are new and all double checked before shipment. Sil please try the best to check the package before leaving mail if possible. If you receive a broken item or missing part, sil please keep the original package and the position paper with the tracking number, and ask your local courier company to give you a number denregistrement on this and send photos to us within 5 days we will send the part of free replacement, or arrange replacement after receiving your returned package if you do not want to keep unity broken.
Our professional customer service will give you a satisfied reply as soon as possible, we are committed to 100% customer satisfaction for you. We will try best to answer your mail within 24 working hours and manage your order within one business day. 2014 best seller of the year in parts and accessories -2015 gmv best growth Award in the category p & a -2016 gmv best growth Award in the category p & a -2017 award for best brand in p & a better class -2018 seller of the year in parts and accessories. 2019 best seller in electronics for cars. We will cherish every support to our business, and will spare no effects to create a peaceful environment and just purchase, we expect the most pleasant cooperation with you in the future. Listing template and services provided by inkFrog.
The seller is \This item can be shipped to the following countries: European Union, Australia.