Original Mercedes Exquisite Be1690 Becker Cassette Radio With CD Changer In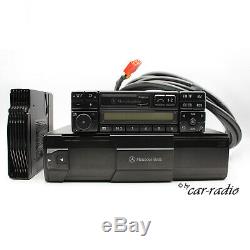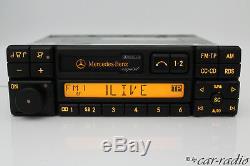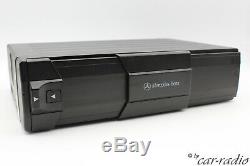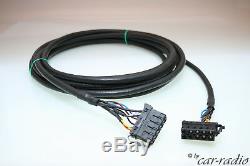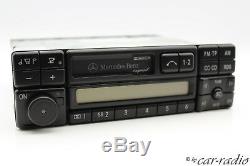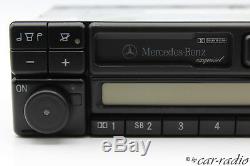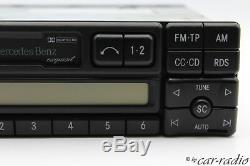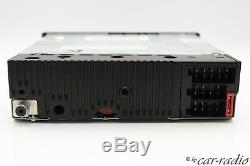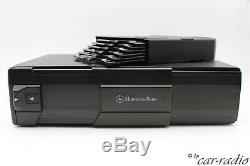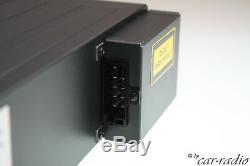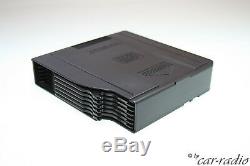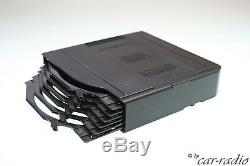 Original Mercedes exquisite becker be1690 cassette radio with CD changer. This product page has been automatically translated.
If you have questions, feel free to contact us. Radio cassette Mercedes exquisit original be1690 with 6 cd changer and connection cable. In this job you get radio-cassette mercedes exquisit original be1690 with cd changer mercedes-corresponding original (with charger) and the connection 5m cable partner. You can install and use directly the radio and the CD changer.
Suitable for all conventional models Mercedes-Benz and youngtimer slot with standard din-din 1 and 12 volt connection. The full package will be shipped approx. 45 minutes retested all functions! Car radio Mercedes origin: a 003 820 56 86 02 (a003820568602) cd Mercedes-Benz Original changer can be installed horizontally or vertically (vertically or horizontally). For example in the trunk, under the seat, behind the seat, etc.
The cd changer reads the original audio CD and self-etched without any problems. Mercedes exquisit Changer cd complete radio set: cassette manufacturer: becker model type: exquisite be1690 lighting: Mercedes amber cd changer: changer 6 times cable changer: approx. Features of radio: dual tuner diversity rds, rds, dolby b nr c nr Dolby, Dolby nr (dnr), fader and more. Optical protection against theft with security code. Support: integrated speaker, Bose sound system, automatic selling price recommended by the manufacturer for former radio mercedes original antenna: 3001.50 dm retail price by the former builder for mercedes d changers origin: 518.69 euros scope of delivery: - radio cassette mercedes exquisit be1690 original - cd changer mercedes original - 5m cable changer (nine) - 6 compartments for cd changer magazine. State: good condition with slight traces of wear. Technical characteristics of the radio exquisit be1690. Supports the following vehicle functions: supports the built-in speaker in audio support bose system supports the automatic antenna connection option for CD changer Mercedes Original (inclusive) diversity rds (dual tuner ) 6 memory locations for each waveband frequency range vHF fM: 87.5 to 108.0 mHz range of frequencies lw: 150-282 kHz range of frequency mw: 531-1620 khz frequency sw: 49m, 41m, 31m, 25m, 22m, 19m automatic and manual station search with scan rDS (radio data system) regional operation (rp), traffic radio disaster warning tp increase in volume dolby nr (dnr), dolby b + c nr ( noise reduction) height adjustment of balance fader low 2 memories silent phone user sound (mute function) suitable for models mercedes benz following.
If your vehicle is not listed or is listed but the year of construction does not match, you can contact us and we will help. R107, c107 (SLC) sl bj class.
1971-1989 W108, W109 S-Class bpd. 1965-1972 W113, r113 sl class pagoda bpd. 1963-1971 W114, w115, c114, V115, / 8 th class bpd. 1967-1976 W116, V116, s, is, salt, nd class bj s.
09/1972 to 09/1980 w123, s123, c123, f123, V123 class e bj. 11/1975 to 01/1986 w124, s124, C124, a124, F124, V124, vf124 e bj class. 1984-1997 W126, V126, C126 bj s class. 09/1979 to 10/1991 r129, W129 sl-class bpd. 1989-2001 w140, v140, c140 bj s class. 07/1991 to 09/1998 c140 cl class bpd. Class W163 1992-1998 m / ml bpd. 1997 to 07/2005 W168, V168 class bpd.
1997-2005 r170, C170, a170, slk w170-class bpd. 1996 to 02/2004 W198, W198 2 (W198 ii) bj. 1954-1963 w201, 190er class c bj. 1982-1993 W202, s202 class c bj.
1993-2000 W208, C208, a208 clk class bpd. 1997 10/1999 w210, s210, v210, vf210 class e bj.
1995 to 08/1999 with W208 and w210 does not support multifunction steering wheel display / speedometer vaneo class W414 v bj. 10/2001 to 07/2006 W460 to W463 class g bj.
In 1979 mb w631 100 bpd. 1988-1995 w638, Vito 638/1 v bj class.
01/1996 to 11/2003 W639, V639 Vito viano bpd. 10/2003 to 03/2006 Sprinter t1 (tn) W601, W602, W611 bj. 1977 to 1995 sprinter T1n W901 to W905 bpd. Mercedes Car of origin: a 003 820 56 86 02 (a003820568602) Radio: cassette manufacturer: Becker model type: be1690 exquisite lighting mercedes amber cd changer: 6 times changer changer cable: approx. Features of radio: content delivery: - cd changer Mercedes Original - 5m cable changer (nine) - supported security code bose audio system supports the automatic antenna diversity rds (dual tuner) rDS (radio data system) 2 sound dumb phone user memories (mute function) W108, W109 s-class bpd.
1989-2001 c140 cl class bpd. 1992-1998 W168, V168 class bpd. 1997-2005 w201, 190er class c bj. 1993-2000 w631 mb 100 bj. Youngtimer oldtimer, Rarität, original radio. A 003 820 56 86 02, a003820568602, 003820568602. Mercedes, exquisit, be1690, becker, kassettenradio.
Kassette, 1-din, radio, rds, dc, mc, tape, oem. CD-wechsler, cdc, wechslerkabel, 6-fach, cd, cd-r.
Daimler Benz, cassette player, alpine, be 1690. A 002 820 59 89 a0028205989, 0028205989, mc3196. A 002 820 58 89 80, a002820588980, 002820588980. A 002 820 58 89, a0028205889, 0028205889, mc3296. B 67 82 27 61, b67822761, 67822761, 3296, al3296.
Mc 3196, 3196, 3296 mc, 3296. For radio, tuner, car stereo, head unit. Dolby nr (dnr), dolby b + c nr. A-klasse, W168, V168, 168, c-klasse, 190d, 190e. 190er, baby-benz, w201, 201, W202, S202, 202, 140. Cl, c140, S124, C124, A124, F124, V124, 124. E-klasse, W123, S123, C123, F123, V123, 123, w124. V210, vf210, g-klasse, W460, W461, W462, W463, 460. 461, 463, m-klasse, ml-klasse, W163, 163, s-klasse.
W116, V116, 116, s, is, salt, sd, W126, V126, C126. 126 sec, w140, c140, v140, sl-klasse, R107, c107. 107, W113, r113, 113, pagoda, r129, W129, 129, 170. Slk-klasse, r170, C170, a170, w170, v-klasse, Vito. Viano, w638, 638/1, 638/2, W639, V639, t1, tn, T1n.
Sprinter Limo, coupe, convertible, cabrio, amg. The item \multimedia embedded \ main units stereo systems. \The seller is \This article can be shipped worldwide.
OE5 reference number: Daimler, Benz, cassette, cd player, Alpine, be 1690 <\/ li>
reference number oe / oem e class w123, s123, c123, f123, V123, 123, w124 <\/ li>
OE7 reference number: 002 820 59 has 89 a0028205989, 0028205989, mc3196 <\/ li>
OE6 reference number: 002 820 58 has 89 a0028205889, 0028205889, mc3296 <\/ li>
reference number OE1: b 67 82 27 61, b67822761, 67822761, 3296, al3296 <\/ li>
dimensions: 1 Din <\/ li>
OE3 reference number: mercedes, exquisite, be1690, becker, radio cassette <\/ li>
reference numeral ow: cassette, 1-din, radio, rds, dc, mc cassette oem <\/ li>
Article modified: not <\/ li>
Model: Mercedes exquisite be1690 <\/ li>
reference number OE9 a 003 820 56 86 02, a003820568602, 003 820 568 602 <\/ li>
playback formats: cd <\/ li>
cd changer: 6-way <\/ li>
manufacturer part number: a0038205686 <\/ li>
model compatible vehicle: clk <\/ li>
number of channels: 4 channels <\/ li>
Color: black <\/ li>
reference number OE2: cd changer, cdc, cable changer, 6-way, CD, CD-r <\/ li>
Vehicle brand: universal type <\/ li>
characteristics: Dolby No. (dnr), dolby b + c No <\/ li>
OE4 reference number: MC 3196, 3196, MC 3296, 3296 <\/ li>
lighting mercedes bernstein yellow <\/ li>
OE8 reference number: youngtimer, old car, rare, original car radio <\/ li>
Manufacturer: Mercedes-Benz <\/ li>
brand - no brand / generic - <\/ li> <\/ Ul>